Maths
'Encouraging our children to be confident and independent Mathematicians!'
Maths Leader: Mrs K Harford-Smyth
If you would like to find out more about our Maths curriculum, please contact Mrs K Harford-Smyth at kharford-smyth@ridgeway.derby.sch.uk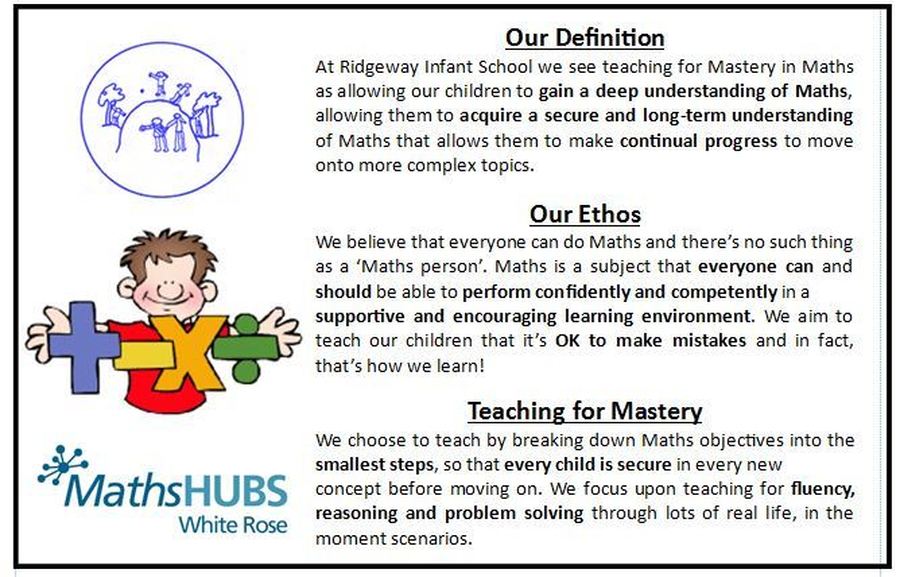 To ensure our teaching and learning in Maths is of a high standard, we follow the White Rose Maths schemes of work. Our teachers are highly skilled in using this scheme as a starting point for planning but then using their own assessment knowledge to ensure all learning is pitched correctly for their children. White Rose Maths aims to build confidence, resilience and a passion for Maths, showing children that maths is an exciting adventure and that EVERYONE can enjoy, value and master maths skills. If you would like to find out more, please visit: https://whiterosemaths.com/
Please click on the links below to see a yearly overview of content taught in each year group:
Mastery Glasses
In Year 1 and Year 2, we have introduced 'Mastery Glasses' as part of our teaching and learning. The main aim of this is to encourage our children to use different skills when explaining their thinking as a Mathematician and when using a specific skill, they are encouraged to wear the actual glasses . . . this has proved a real hit with children! Please click on the link for more information and a description of each coloured glasses - Mastery Glasses.
In our weekly Friday celebration assembly, we have also now introduced a 'Magical Mathematician' award where a child is chosen from each class to wear a special hat. Children can be chosen by their teacher for a number of reasons, including showing resilience when solving problems, making lots of progress in a specific area of Maths, explaining their thinking as a Mathematician etc. This has added an extra buzz in Maths lessons as children are desperate to be chosen and celebrated for their learning in Maths across the week.
KIRFs
To help develop fluency in Mathematics, we encourage children to learn Key Instant Recall Facts [KIRFs] each half term. It is hoped that children will practise their KIRFs at least 3 times a week at home. The KIRFs have been carefully planned to align with expectations of the Maths Curriculum and are intended to be challenging. KIRFs will also be practiced in school and children will be 'quizzed' weekly so that teachers can track their progress. Please click on the links below to find out more:
| | | | | | |
| --- | --- | --- | --- | --- | --- |
| Autumn 1 | Autumn 2 | Spring 1 | Spring 2 | Summer 1 | Summer 2 |
| | | | | | |
Number Formation
Number formation can be tricky for children but it is really important that we help them to form their numbers correctly right from a young age. It is very common for children to sometimes get their numbers the wrong way round so to help with this in school, we teach children rhymes that help them to remember how to form each number correctly. Please watch this short video that shows the rhymes we use. Maybe you could use this at home to help your child continue to learn how to form each number correctly. Click here to download a poster of all the rhymes that you could put on your fridge at home!
Useful Documents
YR Mastery Booklet for Parents/Carers
Year 1 & 2 Maths Curriculum Content
Reception Maths Curriculum Content
Addition and Subtraction Policy - White Rose Maths
Multiplication and Division Policy - White Rose Maths