The School Council's important role in the project
The School Council have been playing a pivotal role in the Sensation Activation project. After each STEM day they have taken their classes ideas and findings to their school council meetings. Taking into account all the children's ideas they make the final decisions regarding the new developments. They then feedback their decisions during whole school assemblies. This has really driven the development of the School Councillor's confidence and communication skills.

Back in November some of the School Council children had the privilege of showing the Mayor around our school grounds and talking to him about our exciting plans for the Sensation Activation project. The children talked passionately and were very proud of their project - it definitely helped to develop their communication and leadership skills in a meaningful way.

As the Mayor was so impressed with our project and the work that the children had been doing he invited the School Councillors to hold their very own meeting at the Derby City Council Chambers! In January the school council and some of the teachers went on this very exciting trip! As well as meeting the Mayor and exploring the chambers the School Councillors held their very own meeting where they discussed important decisions about our project!
To celebrate one of our amazing achievements we held a GRAND OPENING of our outdoor shaded learning area. We presented the challenge of leading the Grand Opening to one of our Mini-Leaders. The year 2 girl we selected had demonstrated increased levels of confidence, responsibility and ability to talk in front of an audience when we had visited the Council Chamber. The whole school gathered to listen to her speech and see her cut the red ribbon. She excelled!! The whole school felt very proud in many ways.
'I loved talking to the whole school when I opened the outdoor classroom. I had butterflies in my tummies but felt proud of myself afterwards.'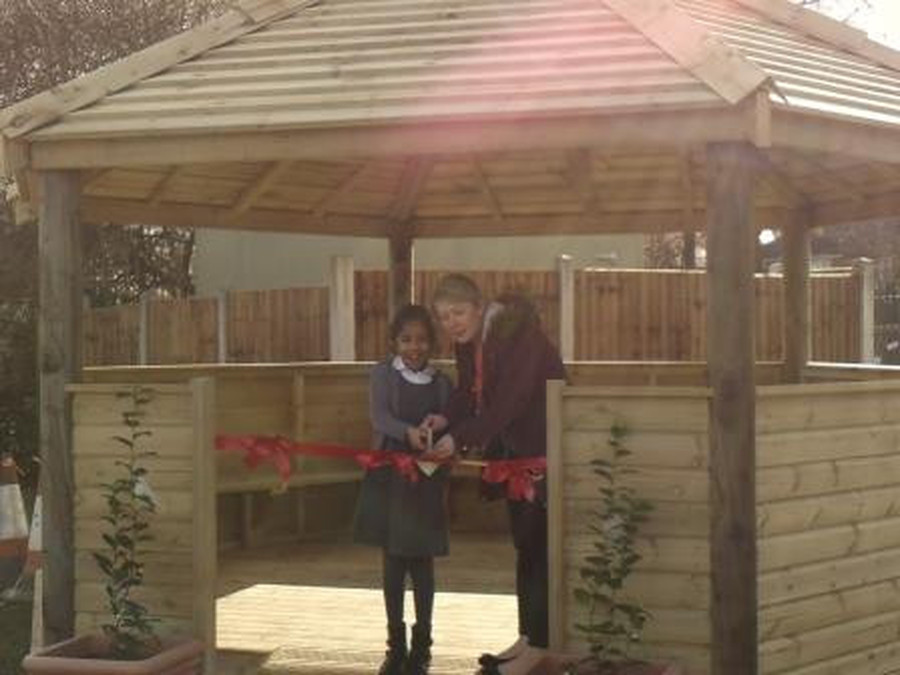 Click here to read some of the blogs that our Councillors have written about this enriching experience…..
Here's what some of our Councillors parents and carers had to say about this very exciting experience….
"We have used the Internet to look at the council house and Westminster photos and discussed what happens there. He said he would like to be the Prime Minister one day!"
"She thoroughly enjoyed her visit to the Chamber. I was impressed that she remembered the Mayors name. She came home and gave us a running commentary of her morning. She was proud of herself for asking the Mayor a question."
"Recently we drove past the council house and he pointed it out! Correcting his sisters – who thought it was the court house. He now states he wants to work in the Mayors office! It has definitely made a lasting impression on him!"
"He said he was surprised by how big the building was, it felt very quiet and the voices didn't seem big enough to fill it, sometimes they felt like whispers. He was not sure if he would like to be the Mayor of Derby one day, as he wasn't sure if he would to be 'in charge' of lots of things."
"She felt happy she had a go on the Mayors microphone and was pleased to write the newspaper article."